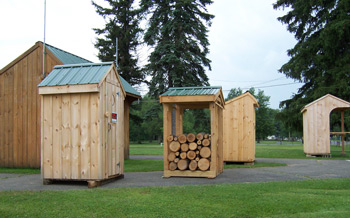 Located on Route 20 in Brimfield, MA, Brimfield Shed is a Craftsman oriented operation that focuses on building smaller sheds and garden items for customers that prefer the look, feel and smell of native New England wood. Most of the wood used in the construction has been milled locally on a Band Saw mill and is air-dried for 6-12 months before use.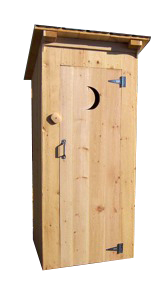 Our structural framing materials are either native hemlock or white pine and our siding is ship-lapped white pine or batten on board white pine depending on the customers' desire. Typically our floor joists are of Pressure Treated material with the exception that we do not use any pressure treated material in the construction of our chicken coops.
A good quality exterior grade plywood floor provides good resistance to wear with strength and allows the customer the option of painting if desired. To date we have resisted the temptation to use staple guns or power nailers and prefer to use coated deck screws for fastening the framing together. For the siding, Hot Dipped galvanized nails are preferred for solid holding power.
Metal roofing in a variety of colors and a 30-year finish is a great roofing material for New England.
Small sheds are not the only product at Brimfield Shed as you will find a variety of Raised Garden Beds, Chicken Coops, Out Houses, Hard Wood garden stakes, Garden Benches, Wood Racks and Live Edge slabs of wood for Bar tops, rustic benches or signs.